Koneksi Research Project
Future proofing a basic social service: climate-resilient community-based rural water supply
Climate change resilience – Future-proofing communities – Community resilience and GEDSI; Climate change mitigation – natural resource management – water systems 
The Center for Regulation, Policy and Governance (CRPG), in collaboration with the University of Technology Sydney (UTS), Universitas Indonesia (UI), and Universitas Gadjah Mada (UGM), has been granted  The Koneksi Research Award. The University of Technology Sydney (UTS) is serving as the project coordinator. The project is scheduled to commence in July 2023 and conclude in July 2024.
Project Component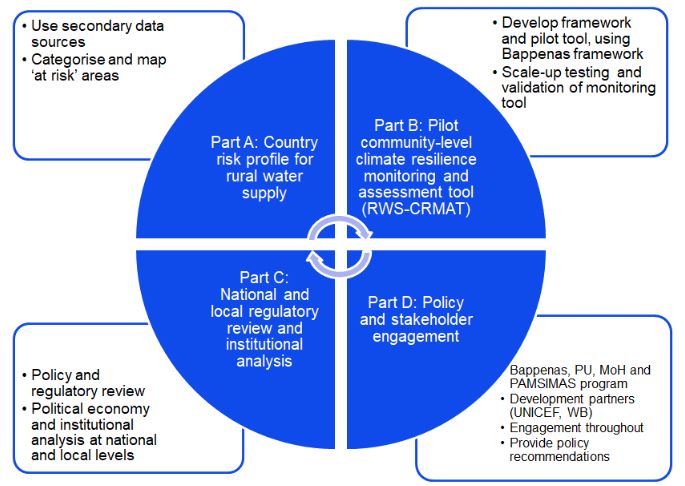 CRPG will be in charge of component C and D of the project.
Project Sites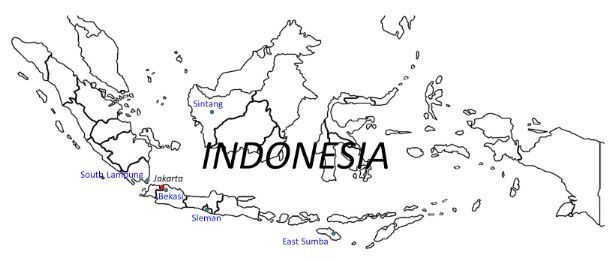 The sites include two in Java (Sleman and Bekasi) and three in Sumatra (Lampung Selatan), Kalimantan (Sintang) and Nusa Tenggara (East Sumba) (for Part B), and of the latter, one location will be chosen for institutional analysis (Part C).
Objectives
Produce a country climate risk-profile for rural water supply to inform national level vulnerability assessment of this sector
Pilot a GEDSI-responsive, climate-resilient rural water supply monitoring and assessment procedure and test its feasibility for large-scale deployment by national government/PAMSIMAS
Assess the vulnerability of PAMSIMAS rural water schemes in studied areas, with focus on GEDSI dynamics in water management and people served, and building local capacity for response as well as mechanisms for vulnerabilities to be addressed at higher levels of governance
Review and provide recommendations for how local and national regulations and institutions can support sustained, inclusive, resilient rural water supply systems and respective water resources.
CRPG Team Members
Upcoming events
National workshop is planned around mid-September, 2023
Contact
If you have any question or interest about the research project, send an email to mova(at)alafghani.info